RVs have become very popular as an alternative place to spend vacation budgets and for very good reason. With the time and effort needed to pack and repack for multiple destinations on a single trip, a used coach may be the answer for some.
Unfortunately for most of us, a new unit may be out of the question. But there are many great deals to be had on used units that are in very good shape structurally and functionally. The worst part of a used RV or travel trailer is usually the exterior. This is because nature always wins, and exposure to the elements can cause visible damage to most materials.
What can you do?
There are many great mobile detailers that can bring a surface back to its original glory. But, sun and chemicals damage vinyl stripes and decals beyond restoration. RV stripes and decals are made of vinyl and they are very thin to begin with, so they can be adversely affected by the very products that people use to maintain their vehicles. Most wax products contain petroleum distillates, which are very harmful to vinyl stripes and decals. Because of this, the stripes and decals on an rv or camper will begin to shrink and crack prematurely. This makes the unit look old and ugly.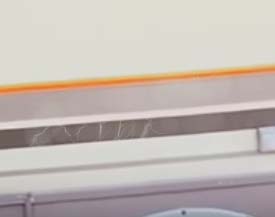 Great news for the used RV buyer that can see beyond the surface. With some heat, solvents and a bit of work, your old vinyl stripes can be removed. The deterioration of the stripes will determine the method of removal, so there is not one single perfect way to do it. Experiment with different products. Sometimes, just using heat, then cleaning with mineral spirits will do the trick. More often than not, its not so easy. 3M makes several products designed to soften and remove both vinyl stripes and the adhesive left behind. Check with your local automotive paint store for their recommendations.
Once your old vinyl stripes are removed, you can replace them with new custom vinyl stripe from Stripeman.com. Our vinyl stripe rolls are made from premium automotive vinyl and are available in a large variety of colors and sizes.
CLICK HERE to take a look at our current selection. If you need to match existing colors, CLICK HERE for a link to our color chart. It has all of our current 3M stripes and Avery stripes available.