Many car owners are also do it yourselfers and prefer to do whatever they can to enhance the look of their vehicle. It seems to give one a sense of pride knowing that you did it on your own. Because of the demand for do it yourself auto graphics and decals, there are literally hundreds of sources to purchase from. Unfortunately, many can be deceptive, either intentionally or by being inexperienced.
Here's the story from the side of graphic design, production and installation.
Suppose you are shopping for racing stripes for your brand new car. Now of course, you're almost broke from the down payment and all the extras that the finance guy threw in, so you want the best value for your auto stripe kit. So you hit Google and start your search. There it is, the kit you want, and its 3M material! Awesome! Everyone knows that brand, and it's the best, right? Not necessarily.
Here's what I'm getting to.... There are many "types" of decal film manufactured today. Some films are made for promotional graphics. This means SHORT TERM or even INDOOR ONLY. Some films are intermediate. They have a longer life expectancy, but are not really suited for the most demanding applications because they are calendered. Then, there are high performance "cast" films. These are the best performing films out there. It's a matter of how the material is manufactured that gives it longevity. All that being said, each major decal film manufacturer (3M, Avery, Oracal, Ritrama) produces each of these film types. Why would a major company do this you might ask. Isn't their reputation on the line? Not really. It would be foolish for a sign shop to make a yard sale sign using a film that is designed to last 5-7 years when they can use a lower grade film that is 60%-70% lower cost and will last several months in the sun with no problems
.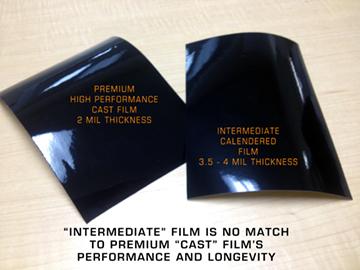 The real problem arises when someone sells this film as an automotive grade graphic film. After all, when it's installed, it looks the same as the high performance film. But, when it begins to age, it shrinks, cracks and peels. It's not made for the abuse that auto and boat stripes and decals take every day.
A while back, there was a guy who had a nationwide auto painting company and would paint any car for less than a hundred bucks! One could argue, Paint is Paint, right? In one sense, it is. At the same time, if you look at it that way, decal vinyl is decal vinyl...... but you get what you pay for.