Stripeman Graphix, Inc. is more than just an automotive graphics superstore. We also provide signs, banners, full color wall murals, lettering, vehicle wraps, fleet packages, flags and trade show displays for your personal or commercial needs. Lately, we've been compiling a list of common misconceptions about vinyl vehicle wraps and thought we would share them with you. As always, we're using the best, most up to date 3M and Avery Wrapping Films.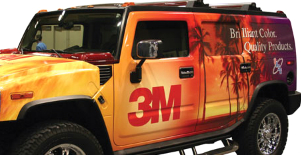 Click to Watch 3M Wrap Film Video
1. A vehicle wrap will hide the dents and dings on your vehicle. That unfortunately is not the case. The vinyl wrap is like a big sticker and it follows all the contour of a vehicle, including following the indentations of any dents and dings.
2. You can't wrap a leased vehicle. Vinyl vehicle wraps have technology built into the vinyl adhesive that makes them safely removable by a professional installer. If you've leased your vehicle, have no fear, it can be wrapped and removed.
3. The vehicle wrap will protect your paint. This will depend on a few variables. First, whether or not the paint job is OEM or was it repainted at some point. Second, the age of the paint job. Older paints will eventually oxidize. And lastly, the length of time that the vinyl wrap is on the vehicle. Most vinyl wrap manufacturers will warranty their material for clean removability for a certain number of years (usually 5-7).
4. Vehicle wraps are expensive. A billboard costs $3000-$5000 a month, and for the same advertising exposure, a wrap lasting five years will cost you $50 a month or roughly $600 a year. Put it in that perspective and consider what you'll be getting for your money.