You've decided that you want to give your car a new look by adding pinstripe tape to its exterior. Before you embark on a project, here are 7 things a beginner should know about pinstriping tape:
1.Pinstripe tape comes in a dazzling array of sizes, materials, colors and patterns
Whether it's clean, simple lines or a flame design or if you want a metallic color, there's a pinstripe tape for everyone! You can simply refer to a color chart or product guide for pinstripe design and you'll be presented with numerous choices.
Typically, a professional roll of pinstriping tape measures 50 yards, but you'll be able to find shorter lengths on some products if your project is smaller. If you want to buy pinstripe tape in bulk, it's possible to buy them wholesale.
2.The only limit to what you can do with pinstriping tape is your creativity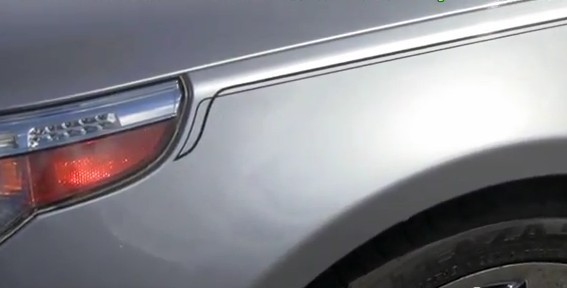 Pinstriping is an art. If you have a design in mind, an experienced pinstripe installer will be able to help you realize your design in real life with the correct type of pinstripe tape and application methods.
The basic size vinyl pinstripe tape that you see on most new car lots are the 5/16" double line pinstripe. Don't be afraid to think beyond the basics! Consider putting two designs together or playing with unique color combinations to truly make your vehicle stand out.
3.Choosing the placement and color of your pinstripe tape should be the first thing you do
Deciding on the placement and color of your pinstripe tape sets the stage for the entire project. You can browse the internet for inspiration or you could seek the advice of a professional pinstripe installer. Usually a pinstripe is placed on or near a major body line on the vehicle.
Once you have selected placement and color, the next consideration is grade of the pinstripe tape. This will affect the final results; pinstriping tape that is highly stretchable and more durable makes for a finish that lasts longer.
4.There are two types of pinstripe tape: premium (high performance) and intermediate grade
The type of pinstripe tape used depends largely on who is applying it. For do-it-yourselfers, intermediate pinstripe tape used to be the only readily available product. It is found in many auto parts stores as well as some larger variety retailers. This material may be easier for the inexperienced to handle but is not truly made to withstand the rigors of vehicle application.
Professional pinstripe installers use premium tape which is much thinner. It requires more skill and expertise to apply, but due to its thinness, it gives a more seamless look and lasts quite a bit longer than intermediate pinstripe tape.
5.Vinyl is the most popular type of pinstriping tape
The reason vinyl is the most popular: it is the most durable and malleable material for pinstripe tape. Chrome, gold and holographic pinstripe tape is made of polyester and will not last as long as high performance vinyl pinstriping. But, some insist on their chrome and gold and don't mind changing out their pinstripes every year or two.
6.Pinstripe tape can last 7 – 10 years
Once your pinstripe tape design is on your vehicle, it can last up to 10 years with extreme care, maybe longer. However, do note that high metallic colors are not as durable and tend to last 2 – 5 years. The higher the metal flake content, the lower the longevity.
7.Applying pinstriping tape will not damage the exterior of your vehicle!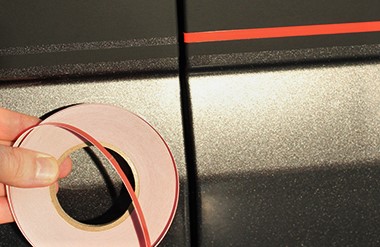 The adhesive on pinstriping tape is easy to apply and long-lasting. More importantly, if it is applied correctly and to ORIGINAL factory paint, it will not cause damage to your paint job.
Adding pinstripe tape to your vehicle can be an extremely fun project! If this is the first time you're doing it, you may want to consider the services of a professional pinstripe installer to ensure that you get the results you want.